Date: November 4, 2016
By: James England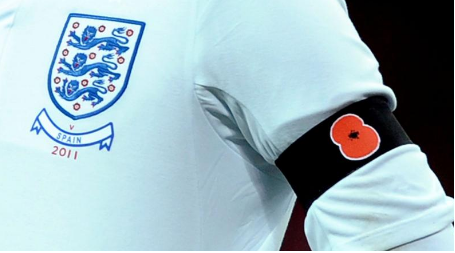 FIFA may not back the appeal but your team can!
Poppies are a hot talking point nationally at the moment with FIFA declining British nations displaying the remembrance symbol in their upcoming fixtures.
Britain hasn't taken kindly to FIFA's stance with Theresa May, the Prime Minister getting involved too. FIFA's decision is surprising especially as England were allowed to wear black arm bands for an international match in 2011, but the governing body have changed their opinion since then.
It will be interesting to see whether the British nations display their poppies for their international fixtures on Remembrance Day, Friday 11th November (England v Scotland and Wales v Serbia), but it is not a problem in junior football and Poppies4Kits is the place to get them from.
Poppies4Kits are a Corporate Partner of the Royal British Legion aiming to raise funds for the Poppy Appeal, which is a massive recognition since the launch in 2014.
After seeing the Premier League stars raise thousands by having their shirts embroidered with the poppy emblem, they thought it would be a fantastic idea if all youth clubs could follow the lead of the Premier League clubs and have poppies on their shirts.
So they have developed an easily applied self-adhesive woven patch that players can wear for a match or a couple of matches and remove afterwards. 2014 was a pilot project for them and it soon gathered massive momentum and started to reach out far and wide.
Poppies4Kits' donation to the Royal British Legion target was set by themselves and is increasing year on year. 2016's target is £20,000 (twice the target from 2014), with a minimum of 50p per poppy sold being donated to The Royal British Legion and with your support their target should be met!
This year they will be selling the 'standard' red poppy, '1916-2016' and 'Lest We Forget', enabling them to uphold the memory of the fallen and support the future of the living.
They need as much help as possible in promoting the campaign so, us at Euro Soccer Company suggest you get yourselves to on www.poppies4kits.co.uk to try and ensure you can receive them in time. Follow them on Twitter @Poppies4Kits.
On behalf of poppies4kits, the Royal British Legion and Euro Soccer Company,
Thank you.