Stanno Prestige Teamwear - The Lowdown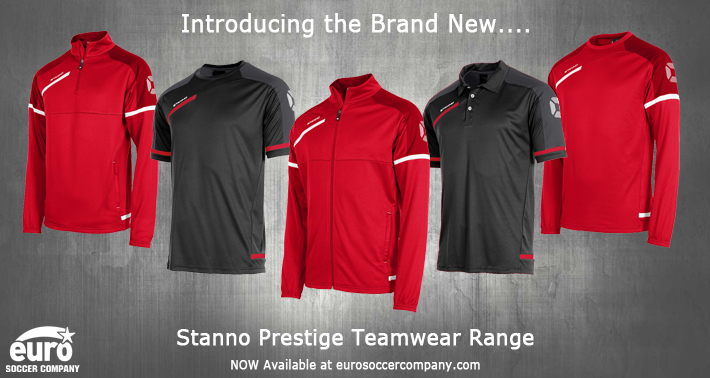 For many years Stanno have been one of the main players in the grassroots football market. We take a look at the New Prestige range.
Variety
With options including 7 Product options including Full Poly Tracksuit, T-Shirts, Polo Shirts, Sweatshirts, Poly Jackets in both Half and Full Zip they have covered a variety of different requirements. Designed to accompany the Centro Rainwear range, the Prestige clothing has pretty much all a team needs for Leisurewear.
OUR SCORE: 9/10
Design
The Prestige range has a simple, yet stylish look to it. With the subtle tone-on-tone shoulder design as well as contrasting piping, a modern appearance is created on the 8 eye-catching colourways. It's a design that compliments the brand and nicely evolves from the Forza range.
OUR SCORE 8.5/10
Fit
Despite the fact the Prestige will eventually replace the Forza range, there can be no comparisons made with regards to sizing. Although marked in the catalogue as a slim fit, the Prestige products take on more of a traditional fit and customers can have more confidence in purchasing their usual size without having to worry about it being "skin tight". Sizes run from 116cm (roughly XS Junior) to 3XL adults.
OUR SCORE 8/10
Price
Stanno understands the market particularly well and this can be seen once more with the Prestige range. Although the range isn't dirt cheap for obvious reasons, Full Tracksuits are Available from £25.10 which still provides customers with good value. Half Zip Jackets from £16.90 and Full Zip Jackets from £18.75 give teams a chance to buy a decent quality product without breaking the bank.
OUR SCORE 7.5/10
Overall
The ability to cater for all needs from Junior Teams to Semi-Professional sides is an extremely difficult task. But Stanno have cracked it once more. Affordable, stylish and available in a variety of sizes the range is sure to be a big hit with grassroots football.
OUR SCORE 8/10