The Euro Soccer East Midlands PAN Disability League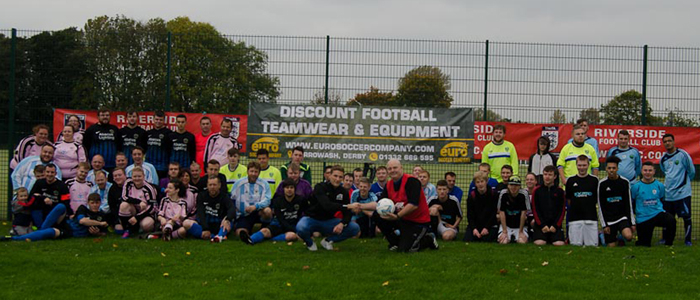 Football is a game which should be easily accessible for all, whether it is a simple game of 5-a-side or a competitive 11-a-side Saturday league match. Unfortunately, the members of Riverside Inclusive Disability football team did not feel as if this was the case - so they took matters in to their own hands.
Before the East Midlands PAN Disability Football League established, the inclusive side would travel up to the nearest league (in Sheffield - roughly 50 miles away!) on a weekly basis to play their league fixtures. The new league's chairman Darren Bailey and secretary Jules Bellingham felt as though that the travel time was too long and the team should be challenging themselves against local opposition. After expressing their concerns with fellow members of the team, the idea came about to formulate a Disability League for the East Midlands region.
After being approached by the committee for sponsorship, we felt this was something that we wanted to be a part of, after hearing about the lack of opportunities for the teams. Due to the nature of our business and sheer volume of donation and sponsorship requests, we have to carefully choose which parties we decide to support. We felt as though this project ticked all of the boxes, therefore as a result our support could benefit a large group of players.
Jules Bellingham, League secretary commented on the sponsorship agreement after the first week of fixtures: "We are really pleased that our new league - Euro Soccer East Midlands PAN Disability League - has got off to a flying start. As Riverside Disability and Cerebral Palsy teams, we were struggling to find any local teams in the East Midlands area and were having to travel over an hour away for our players to enjoy taking part in competitive football. After much hard work and with thanks to committed volunteers, we decided to start our own league primarily covering Nottinghamshire and Derbyshire and have had over 10 teams interested so far. We have played our first matches and look forward to our next league meeting on Sunday 19th November at The Long Eaton School. We are very grateful for local organisations who have made donations to our league and especially pleased that Euro Soccer have agreed to become our Sponsors and kindly donated football equipment to get us off the ground. We are confident that we will go from strength to strength".
We at Euro Soccer are extremely proud to back the project and put our name to it, now we want to see this flourish and help players extend their opportunities within the local area.
For more information on the league, please visit: Euro Soccer East Midlands PAN Disability League