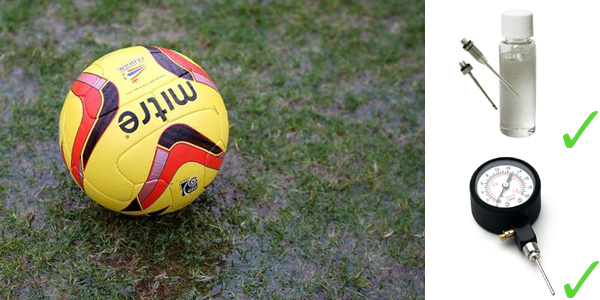 As temperatures descend, the importance of looking after your footballs rises. Whether they are training or match, balls are designed to last for months - so it is well worth taking a note.
Read our tips below to see if you can help improve your balls lifespan.

The Dos
Use glycerine to moisten the needle before inflating (this helps to preserve the valve & prevent any unwanted debris from entering the bladder) [OUR TOP TIP]
Before inflation, "pull the ball into shape" (this prevents an early creasing in the ball)
If the above fails, leave next to a radiator temporarily to help the ball reach an optimal shape. (During colder times of the year balls may not take their full shape initially due to cold temperatures in storage/transportation)
Store balls at room temperature thereafter (if made from a PU material, this should keep the ball much softer).

IF, kept in a cold location; to help soften the material you can run warm water over the balls (but remove excess water)

After games, use a damp cloth to clean the ball (this helps to prevent dirt/grit from entering the inside of the ball)
Carefully choose your training location. This is the easiest way for a grassroots club to lose balls. Avoid playing near train tracks, thorn bushes and teams that use the same ball!
The Don'ts
DO NOT over inflate the ball - this will affect the stitching (use a Pressure gauge to stick within the PSI recommended guidelines - which can be found next to the valve)
Avoidhitting balls against sharp & hard objects
Does your ball lose air quickly?
Try using a needle and glycerine to clear the valve by gently moving it up and down (This will remove any excess dirt stuck inside, which will help to close the seal once more)
What should I do to dry my footballs?
There is no quick fix, so the best option is to leave in a warm, well ventilated room. Try not to leave your footballs in damp areas such as car boots, sheds, and out buildings. Keeping the balls dry could double the life of a PU ball, so it is extremely worthwhile.
Where can I purchase pump accessories?
Follow the link here to buy online. (All equipment is kept in stock, ready for a quick dispatch.)
https://www.eurosoccercompany.com/footballs/footballs-by-use/ball-pumps-accessories