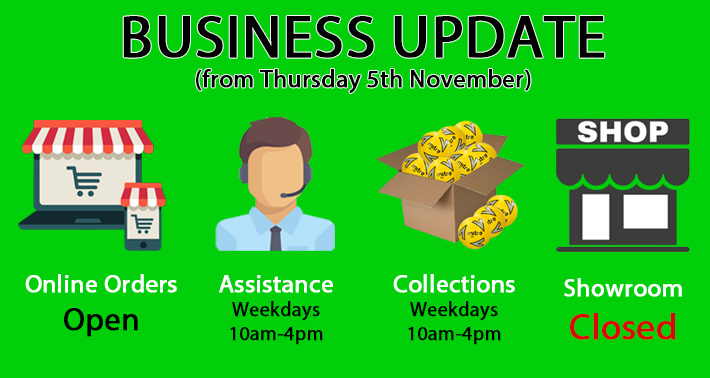 Business update from 05.11.20

Following the government's new lockdown announcement, we'd like to make you aware of our updated operations:

Showroom:
Open until Wednesday 4th November at the usual opening hours of 9am - 5.30pm. Closed until further notice from Thursday 5th November.
Online / Mail Orders:
We will still be operational, however, we will be operating with a skeleton workforce so small delays to lead times may apply.Please contact us for more accurate information.​​
Collections:
New and old orders will still be available for collection from Thursday onwards during the hours of 10am - 4pmPlease call 01332 666 595 when arriving at our car park and we'll bring the order out to you.
Enquiries & Assistance:
From Thursday our phone lines (01332 666595) will be operational at the reduced times of 10am - 4pm in the week.New enquiries can also be emailed through to us at sales@eurosoccercompany.com in which we will aim to respond within 48hours.
​
As ever, if you have any questions please don't hesitate to get in touch.

Thank you for your fantastic support in 2020, stay safe and we hope to see you soon.

The team at Euro Soccer Company!