Nightsearcher Sports Star Floodlights
Product Information
NEW Sports Star Portable Floodlight from Nightsearcher
This brand new floodlight really is a game changer. Boasting a 20,000 lumen rechargeable lighting this kit offers a potential run time of up to 16 hours, meaning those dark winter nights with no training premises are a thing of the past!
With a beam range of between 12.5m to 50m you'll do very well to find a better light in the sports market at such a price! What's even more impressive is they weigh only 10.5kg and take just 1 minute to erect.
Key features include:
20,000 lumen light output

Air cushioned safety tripod

18Ah lithium-ion rechargeable battery pack

Runtime up to 16 hours (lowest setting)

6-8 units required to light a typical 60x40m training area (approx half of a football pitch)

Easy to carry and store: waterproof carrier bag included

Fully rechargeable means no noisy, expensive generators (re-charges in 8 hours)

Quick and easy to assemble: a 1-minute setup

Impact resistant light head

Perfect for outdoor use in every weather

Includes 3 x stability ground pegs for tripod

Utilise previously unplayable pitches and fields

3 year light guarantee

1 year battery guarantee
SRP: £929.75
Interested to see the light quality in person?
LEAD TIMES VARY - PLEASE CONTACT US FOR A LEAD TIME.
Contact us on 01332 666 595 for more information or to arrange a free product demonstration.
Product Spec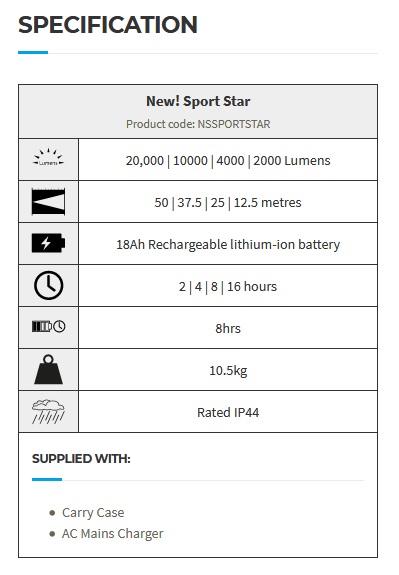 All prices are inclusive of VAT where applicable.