Mitre United Kit Back Scheme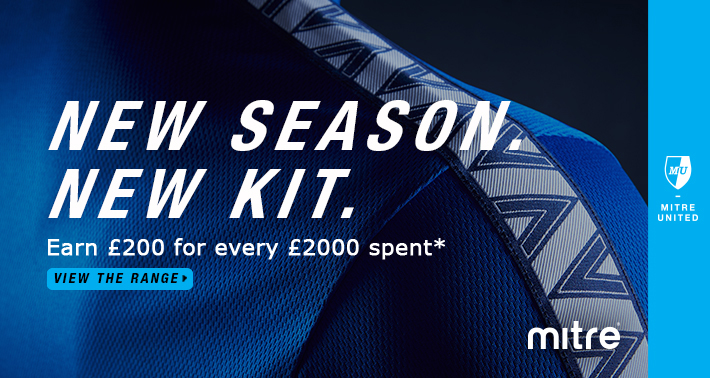 The Mitre United Scheme - In Partnership with Euro Soccer Company
The Mitre United scheme is a national initiative to support grassroots football and encourage every football club to try Mitre's quality teamwear range.
The key feature is a free kit/teamwear offer, available through ourselves (Euro Soccer Company) which rewards the club for using Mitre garments.
What can our club earn?
The scheme provides registered clubs with £200 worth of free kit or equipment for every £2000 RRP they spend on Mitre or Prostar kit and teamwear.
What do we have to do to qualify?
Simply ask us for registration details, sign up and begin purchasing Mitre Team clothing through us (Euro Soccer Company).
Are there any certain requirements?
As long as your first club order exceeds £200 (at RRP) there are no other specific requirements. Simply sign up, place your orders and begin to reap the rewards!
Please Note: The scheme only includes standard in-line kit and teamwear. Clearance products and equipment do not qualify.
How can Euro Soccer Company support our club?
We can arrange a meeting with your club representatives to show you the kit and teamwear ranges available. Once you are satisfied, we can then provide you with a FREE Club Shop Facility.
How do we know how much the club has earned?
As your dedicated retailer, we will manage all of your orders and keep a running total of club spend. You'll then receive regular updates so you know exactly where you stand!
Are there any other benefits to becoming a Mitre United club?
The Mitre United scheme will also run regular competitions offering prizes such as match tickets, VIP experiences and kit throughout the period of the campaign which runs from 1st March 2017 to the 28th February 2019.
If you would like further information or you would want to arrange an informal meeting with us please contact us for more details.
Contact: 01332 666 595 or Email: sales@eurosoccercompany.com