Gorilla Multi Sport Rebounder (Folds in to Transportable Bag) from Euro Soccer
Product Information
Gorilla Multi Sport Rebound Net
Fantastic for use as football rebounder

Can also be used for netball, handball, hockey, rounders, rugby & more!

Easy to transport (folds in to carry bag that easily fits in car boots)

Sturdy construction, allows use on grass, artificial surfaces and indoor

Lightweight frame

5ft x 5ft net

Adjustable angles provided different returns

Very responsive net

Designed to absorb shots, passes, flicks, throws
FREE UK MAINLAND DELIVERY
WATCH THE PRODUCT VIDEO TO SEE THE REBOUNDER IN USE
Video
Product Review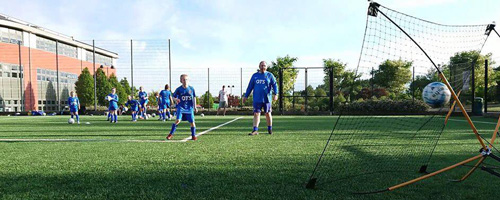 "I'd highly recommend this piece of kit"
Ross Paul, of Kilmarnock Ladies was the first coach to trial out the rebounder with his team and was very impressed with the durability of the product.
"After winning the gorilla rebounder for Kilmarnock Ladies we put it to the test, the rebounder is absolutely fantastic, with different angles available it gives pass backs or lift onto the ball, it has helped our girls work on high first touch or volley shots, I would highly recommend this piece of kit to any team as it will only be an asset to your training."
Not only does the Gorilla rebounder provide the user with reliable performance, one of its key strengths is that it can be easily transported.
"The rebounder is very easy to carry about and very light weight, it takes approx 2 minutes to assemble due to its simple design."
With a cleverly designed hinged set up, the rebounder folds down compactly in to a small carry bag, that can easily fit in car boots and carried by coaches.
We are confident the rebounder is one of, if not the best rebounder for grassroots clubs on the market and we're sure you will agree.
Special thanks to Ross Paul and the Kilmarnock Ladies for the product review.
Stock Availability
This item is usually kept in stock, although stock levels can vary. Please contact us on 01332 666 595 to double check before visiting or ordering online.
All prices are inclusive of VAT where applicable.